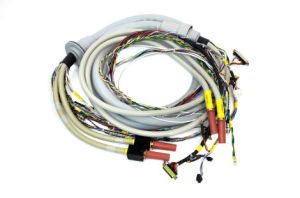 Repaired:
9800 HV Cable p/n:5694681-01 / 00-901141-01 or -04
9800 HV Cable p/n:5694681-02 / 00-901141-03 or -05
9900 HV Cable p/n:5694681-02 / 00-901141-05
HV TESTED AT 250kv FOR LEAKAGE, from pin to pin to check for heat cracks in wire jacket as the three wires are twisted together throughout each of the two High Voltage cables.
If there is a heat crack, 250kv will find it.
And, we check from each pin to the cables ground shield.
In stock and ready to ship.
CORE RETURNS ARE MANDATORY
We will not accept what we consider "non-repairable" cables as core exchanges. We will only accept cores that are deserved of a repair.
If the core is missing parts, call OEC and buy a new one.
90 Day warranty
Always buying CLEAN HV Cable cores that can be repaired.
If you have any to sell, contact us for details.
Separation of Jacket at the mounting block may be repairable. Need good video cables, good Anode and Cathode.