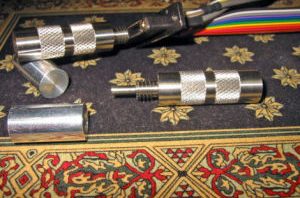 Part Number: our p/n 102230
Coaxial connector removal tool for JAE product
All non-magnetic stainless steel with a Protective cap. Used on variety of medical units utilizing JAE mixed technology pins. This item easily removes male JAE coax connectors from Airis and Airis II Table Side Receiver connectors "without damage allowing the FSE to repair the coax pin and reuse. The extraction tube is thin, so we advise you use the protective cap while not in use. Not warrantied against misuse or bending.
A very handy and inexpensive tool for the ISO man in the field. Guaranteed to work and work well.
Replacement Coax preamp cables are available at our company as well. ALL RF cables in stock, or same day shipment with a picture, drawing or sample provided.
We make them longer so that the FSE can cut to his needed length and stock one small cable for different machines.
Quantity discount available for ten plus pieces.
This item will work on any product utilizing JAE connectors of this type, not just Hitachi. This is not a Hitachi product, it was designed by us for use while building their product.