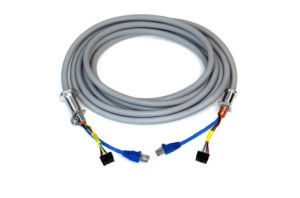 Part Number: 5148115-4
Detector Tether Cable
Tether cable p/n 5148115-4 / 5330356 or 5160144 at
15 1/2 foot long. All new cable, pins, and Cat5e connectors.
90 Day Warranty on construction, as these tend to be a
highly abused component. Core exchange is required.
In stock and ready to ship.
We utilize a mushroom style aluminum bend relief for use on the machine side and detector side which has shown to really help diminish failures in the field.